What I Ate Wednesday #17 {Asylum Fit Test}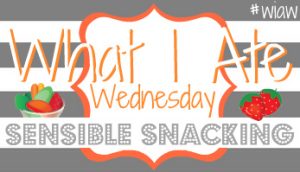 June 1st I started a workout DVD series called Insanity: The Asylum. It's the next level up from the popular series Insanity from ShaunT.  Saturday marked the half way point in the 30 day challenge.  In order to track my progress, I got to do a regular workout AND the fit test.  Whew!  It's fun to me though. Maybe I'm a little insane —
Here's what I ate:
Breakfast: Protein Pancake

My new Sunwarrior Warrior Blend Powder
works very well in this simple protein pancake recipe.  I use one egg, chia seeds, protein powder, cinnamon, baking powder, and a splash of almond milk. It's not a scientific process anymore.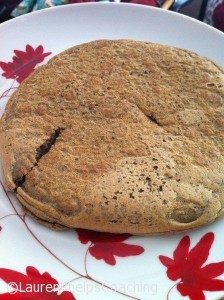 Morning Snack: Energy & Recovery Drinks

E&E is a new supplement for me. I bought it on sale just to try it, and I can definitely feel a burst of energy when I use 2 scoops.  I'm sure it helped me increase my results on the Asylum Fit Test!  Afterwards, I had half a pack of P90X recovery to help my muscles recover from the intense workout. I'm definitely less sore the next day when I drink a recovery drink.
Lunch: Chipotle Veggie Salad

Chipotle never disappoints!  I love the giant heap of guacamole you get for FREE when you order a veggie bowl.  I get the salad with a little rice instead of the rice bowl with a little lettuce.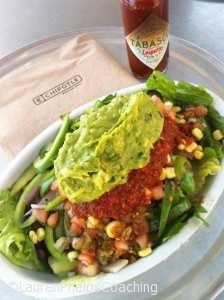 Afternoon Snack: Veggies, Almonds

My metabolism was in high gear today. I couldn't stay full.  Good thing I was making good snack choices!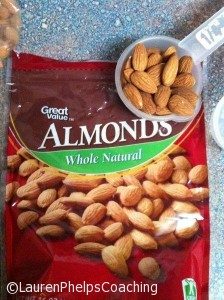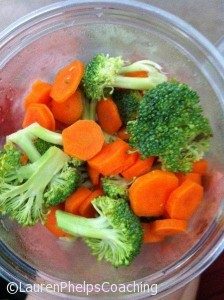 Dinner: Grilled Red Snapper, Veggies, Beans

Flying Fish has more on the menu than just fish tacos.  Tonight, I had the red snapper, grilled, and "snappy" (extra seasoned). I didn't eat much of the rice, but everything else was fresh and fabulous!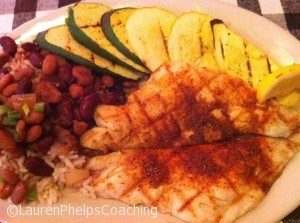 Later that night, my friend and I scoped out the yogurt flavors at Dream Berry.  The flavor was called something like Candy Bar Crush, but it tasted just like Snickers.  YUM. For toppings, I always get cookie dough, but she talked me into trying the chocolate covered waffle cone pieces. OMG they were delicious!!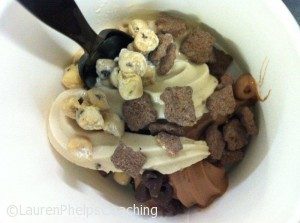 Check out what other people ate by visiting Peas and Crayons!
Do you eat this much in one day???
Comments
comments