Homemade 7 Layer Dip

Have you ever had a time in your life when you liked new foods all of a sudden?
My 28th year has been full of trying new foods and LIKING them.
Pinto Beans are one of those new foods.  Now, I can eat my side of beans at Mexican restaurants and enjoy party dips like the 7 Layer Salad.
I'm still not a fan of sour cream, and I'm cutting back on cheese, so I decided to make my own dip.
This recipe from LovelyLittleSnippets inspired me to make my own refried beans because it looked easy, and I control the ingredients!
Here are the ingredients in a popular brand of refried beans:
Cooked Pinto Beans, Water, Salt, Tomato Paste, Partially Hydrogenated Lard With BHA And BHT Added To Protect Flavor, Onion Powder, Spice, Chili Pepper, Garlic Powder.
Looks pretty normal, but wait —- Hydrogenated Lard With BHA And BHT —- what the heck is that?
Lard = FAT
BHA and BHT = chemicals to preserve fat
No thanks!
Ultimately, I used a simple can of pinto beans to create the base of my dip. I blended the beans and spices in my Vitamix to make them smooth.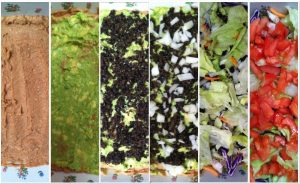 Next, I added avocado, olives, onions, bagged salad, and tomatoes.  I was impressed with the way it turned out. Next time, I'll add more spices in each layer and definitely add jalapenos.
P.S. The chips were awesome!
What healthy substitutions have you tried?
Comments
comments