Make Something From Nothing
Do you ever feel like you have NOTHING to eat in your fridge? You stand and stare at random foods and can't see a meal.
This happens to me all the time, yet somehow I find a meal.
Here's a recent "something from nothing" meal: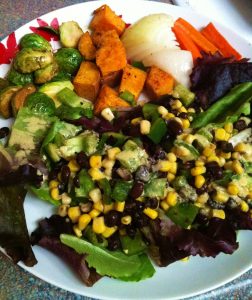 Roasted carrots, sweet potatoes, onion, and Brussels sprout plus a salad.
I had corn and black beans leftover from another meal, so I added bell pepper and a jalapeno and made "salsa." Then I made a simple dressing from my Vitamix cookbook using lemon, spices, oil and vinegar.
Dinner turned out to be very tasty!
What's your favorite "something from nothing" meal?
Comments
comments