Dining Out Fridays
Cactus Veggie Burrito with cheese and tomatillo sauce from Frieda's Midtown.
I asked for an avocado salad instead of rice and beans.
This wasn't what I envisioned, but it was good, and I didn't miss the rice and beans.
You eat enough white/yellow foods between the tortilla and chips.
Simple swaps like this can make a big difference in your diet.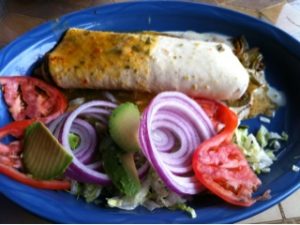 What simple swaps do you make?
Comments
comments