Winter Squash Inspiration
Winter squash is here!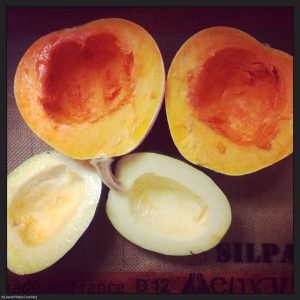 At Farmer's Markets and grocery stores, you should be seeing a variety of squash varying from pumpkin looking to strange looking!
I'm always curious about these seasonal veggies, but I don't always know how to cook them or what to pair them with.
Recently I picked up a butterkin squash (top of photo) and an acorn squash (bottom of photo).  The butterkin squash is sweet like a sweet potato but similar in texture to a spaghetti squash.  The acorn squash is a little more bland and smooth.
The simplest way to prepare any squash is to roast it.
Simply cut it in half and roast it on a pan at 350 for 30-50 minutes.
Then, you can scoop out the squash and serve it as a side dish.
Another slightly more fun option is to use the squash half as a bowl!  Pile it high with cubed chicken breast or ground turkey. Add a little marinara sauce or cheese and you have a meal!
How do you use squash?
Comments
comments