Moving to Florida : Day 29 – Taylor Swift!!!
Omggg nearly a year of anticipation ended tonight.
Taylor Swift was incredible.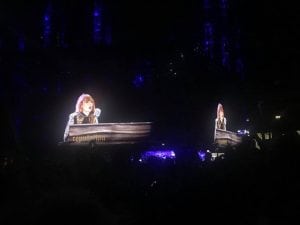 Quick Overview
The Good
Paddle board yoga adventures!
Lots of yummy food and girl chats!
TAYLOR SWIFT Reputation Tour with really great seats!!
The Bad
Ummm… not having front row seats?? lol
Beautiful Moments
Hearing two of my favorite songs mashed together in a piano medley – Long Live and New Years Day. I have two separate beautiful memories with these songs.
Spending the day with an awesome person who makes it easy to chat and spend time together.
Lessons Learned
Going to a concert late is the way to do it! We got in zero traffic, waited in zero lines, and got to our seats about 10 minutes before Taylor got on stage. Brilliant!
Growth
At the concert, I focused on really being there in the moment and soaking it all in. I didn't try to capture it all on social or photo/video. It was beautiful.
What's the best concert you've been to?
Read more Moving to Florida Entries here. 
Comments
comments