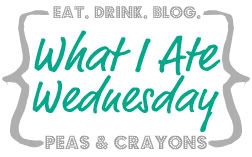 Happy Wednesday!  Monday I had the pleasure of attending a Mississippi State University Send-Off party.  Each summer, alumni and recent high school graduates headed to MSU gather for a celebration and meet and greet before they move to MSU for their first semester.  I LOVE going to this event each year and reminiscing about my days at Mississippi State.  It won't be long until you'll get to see WIAW – tailgating edition!
Here's what I ate:
Highlights:

1. Yes, I eat pizza.  I would have preferred chicken or veggie pizza, but this $5 Little Caesars pepperoni pizza was pretty good.  I liked the sauce to cheese ratio.
2. MSU Dawg Paw frozen treats – I mixed Shakeology and almond milk in one bowl, and PB2 and water in another bowl. Then, I layered them into my silicone mold and froze them.  YUM.
3. I'm still loving my 10AM chicken and veggie snack.  It's so much more satisfying than my previous carrot stick snack.
Check out what other people ate by visiting Peas and Crayons!
How do you define "good pizza"?