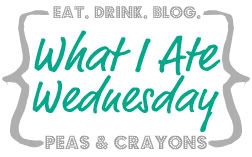 I'm LOVING summer produce.  Fresh fruit and veggies taste so good when it's hot outside. Okay – they taste good all the time, but it's nice to not actually cook because most of what I eat is raw and fresh!
Here's what I ate:
Highlights:

1. It's humid! I had no idea I was capable of sweating as much as I've sweated this month.  Makes me feel like I'm doing something right!  Stay Hydrated and Be Careful if you're outside exercising.
2. I made Egg Salad for the first time. It's very simple – eggs, avocado, mustard, spices – that's it!  I liked the flavor, but it turned brown fairly quickly.
3. I actually like artichoke without spinach and cheese mixed in!
Check out what other people ate by visiting Peas and Crayons!
What's your favorite salad topping?