Saturday was jammed packed with awesome. I woke up super early to help a friend, then got to Target before everyone else! Target was so peaceful at 9AM. Two new dresses later, it was time to go workout and spend the afternoon with friends.  Later, Mom and I painted pottery for her Mother's Day gift.  Saturday was fabulous.
Here's what I ate during a fun-filled Saturday:
Breakfast: Chocolate Pot PB2 Shakeology

Okay- It's not really pot.  One day, I was browsing the protein powders at Whole Foods, and I found Hemp Protein.  I bought it because it only has one ingredient: hemp protein.  The green color of the powder surprised me and got me thinking, "What is hemp anyway?"  Then it hit me.  OMG this is pot!  Lol  Turns out, it's an excellent source of complete protein, totally legal, and doesn't make you high.
PB2 Powdered Peanut Butter
is my newest favorite Shakeology additive.  I  know I'm late to the party; however, it took me months to find it in Memphis.  Guess where I finally found it – WALMART.  Whole Foods, you should be ashamed.
Morning Snack: Strawberries, Grapefruit, Almonds

Have you ever tried strawberries with grapefruit?  It's new to me, and it was fabulous!  I prepared the bowl the night before for convenience and found the combined flavors were delicious. Definitely a do over. Check out my to-go "fork" aka toothpick. Great idea, right?  Raw almonds
are one of my favorite snacks. A handful of almonds keeps me going for another hour, and they are so portable!
Lunch: Shrimp Tacos, Side Salad, Sweet Potato Fries

Baby steps, right.  I was craving a fresh salad, but still not willing to forgo the delicious sweet potato fries.  So, I had both.  Bonehead's XXX Hot sauce was fiery and perfect on the tacos, and as a dipping sauce, and as a salad dressing.  Just kidding!  I hardly use salad dressing anymore. It gets in the way of the veggies.  That's Crazy Talk. I know.
Afternoon: Trail Mix, Painting

Mom and I spent the afternoon at Seize the Clay painting pottery.  It's no surprise that I painted cats on my giant bowl.   I bet you can't wait to see the giant salads I make in this bowl!   The trail mix didn't last long enough for a photo, plus my hands were covered in paint.
Dinner: Salad, Shakeology

By the time I got home, I was exhausted and hungry again.  This sad looking salad was the last thing in my refrigerator that didn't require cooking.  I'm excited for summer and perfect tomatoes.  Interesting fact – I hated tomatoes until about a year ago. Now, I can't get enough.  Love them.   I'm pretty sure I had half of a shake, too. Time to pass out!
Check out what other people ate by visiting Peas and Crayons!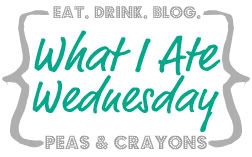 What's your latest food find? Do you like a food now that you used to hate?