WARNING: This is going to get ugly – Sunday was the 11th Annual Southern Hot Wing Festival in Memphis.  My family has had a tent for the last four years. We have a great time cooking and eating all day and visiting with friends who drop by.
Here's a group "wing" shot and one of the grill masters (aka my dad) :
Here's what I ate at the Feastival:
Breakfast: Shakeology, Fruit

I KNEW today would be ugly, so I made a simple shake with Shakeology so at least I would get my healthy food for the day.  I volunteered to bring a fruit tray to the tent.  Of course, I sampled some as I put it together.  Isn't it pretty?
Morning Snack: None

I made a point to not eat before lunchtime. Once I start snacking, I have a hard time stopping.  The wings were almost ready!
Lunch: Wings, More Wings, Celery, Carrots, Chips

As predicted, once I started sampling wings, I was hard to stop!  BBQ was in the air, and wings needed to be sampled.  At this festival, you can sample wings from other booths for a small donation to the Ronald McDonald House. If you missed it, come next year. It's a blast!
Afternoon: Lady Shamrock, Birthday Cookie

Several times during the day, this interesting lady kept coming to my booth and leaving a donation. After a few times, I started talking to her and found out that she reads tarot cards. She invited me over for a reading – why not – You can see my pre-reading freak out followed closely by intent interest in what she had to say.  Some of the cards were SPOT ON.  It was fun to try something new!
Dinner: Wine and Whiskers!

As if the festival wasn't enough fun for one day, in the evening I had the pleasure of helping Mewtopia Cat Rescue with their 10th Annual Wine and Whiskers Silent Auction.  My job was to collect money with my Square Reader. Isn't technology amazing?!
The event was a huge success! We raised money to support the kitties as well as enjoyed delicious food, friends, and wine at The Elegant Farmer.
After all, the day was full of fun – great food, great conversations, and great causes.  However, the next day was hard on my body – I'll tell you about that later!
Check out what other people ate by visiting Peas and Crayons!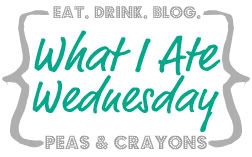 Do you have a favorite festival?