If you haven't noticed, I don't like to be hungry. I'm good at packing snacks and gearing up for long periods of time 3 or 4 hours without food.
Here's what I ate – three big meals:
Breakfast: Eggs, Tomato, Shakeology

I don't normally make hard boiled eggs; however, since half a dozen of them were about to expire, I boiled them.  They were much tastier than I remembered.  Add a chopped tomato, basil and balsamic vinegar and you're in business!  Next, I enjoyed my daily Shakeology that was extra creamy because I used almond milk instead of water.  With 30 grams of protein in me, I was READY to rock a 2 hour workout.
Morning Snack: Sweat, Water

Lunch: Shrimp Po Boy, Pecanberry Salad, Unsweet Tea

McAlister's is one of my go-to lunch spots. I'm usually starving, and I like their Choose 2 option.  Note about the new salad –  get a different dressing. The standard dressing tastes like syrup. Ew.
Afternoon: Shopping, Strawberries

Do you ever fall for grocery store marketing?  I did.  Almond milk was on sale for $1.99 if you buy 5.  I've spent as much as $3.50 for almond milk, so after a careful consideration, I decided to participate in the promotion.  Almond milk stays good for much longer than cows milk, so I feel confident I'll use all 5 half gallons before the expiration date this summer.
Dinner: Two Shrimp Tacos, One Chicken Taco, Lots of Chips & Salsa

It was girls night at a Mexican restaurant!  Need I say more? The food was delicious and the girls were awesome!  Look at all the avocado!  These tacos give Humdingers a run for their money.
I had three big meals today and only one tiny snack.  It worked for my schedule on this particular day, but in general, I like to eat smaller portions more often.
Check out what other people ate by visiting Peas and Crayons!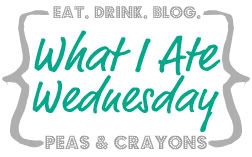 Do you like big meals or several smaller meals?