On April 5th, I ran in my first race of the season! I love the energy of the race environment!
Here's what I ate on race day:
Breakfast: Shakeology with Extra Protein
I know I'm getting predictable. Shakeology is my go to breakfast every single day. It's nice to not have to think about food first thing in the morning.
Morning Snack: Micro Greens!
It's opening day of the Downtown Farmer's Market! I tried these freshly clipped microgreens and bought some sunchokes just because I've never heard of them.
Lunch: Salmon Burger, Roasted Veggies, Unsweet Tea
Mom and I dined at The Elegant Farmer for the first time. It was delicious!
Afternoon: Espresso Beans, Cutie

I needed a little pre-race fuel!  Espresso beans are a new addiction of mine, and I don't even like coffee.  Odd!
Dinner: Random Race Food, Shakeology Again
After my intense 30:32 run, I ate a bunch of food that I don't normally eat. I did forego the pizza and beer because it didn't sound good to me at all! I could have used a giant salad full of fresh fruits and veggies. Where's that race food?
Later in the evening, I was hungry again and wanted something healthy to balance out the junk I ate earlier.  Thank you, Shakeology!
I finished 100th overall and came close to beating my personal record.  My dad finished a whole minute and a half faster than me!
Check out what other people ate by visiting Peas and Crayons!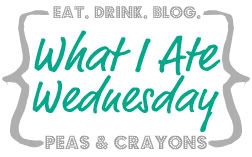 What foods do you eat on race day?